Cowes
The Capital of Yachting and a place everyone should visit, at least once. It doesn't have to be terribly expensive as the council retain control over several pontoon moorings. The most expensive is just before the floating bridge on the starboard hand. It can get busy but you can walk ashore. In 2005 this was much extended into a mini-marina, Shepards Marina. I expect they took the opportunity to increase the prices somewhat...we haven't re-visited.
Just past the floating bridge, on the port hand, is another, long, pontoon but without access to the shore. You can row the dinghy across the river, to tie up at a public pontoon, and walk into Cowes.
Guide price : £8.50 pontoon (28ft 2006).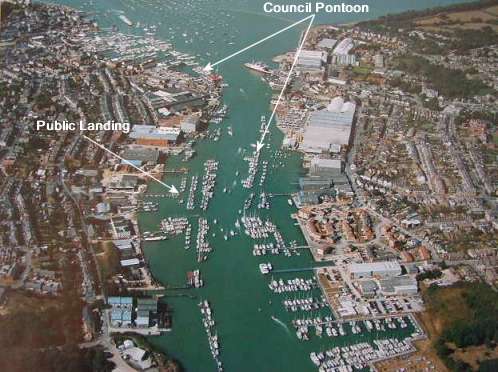 If you have a half day or more to fill, take the floating bridge from West to East Cowes and walk (or catch a bus) to Osborne House. Queen Victoria's country house has plenty to offer for all the family.