Ashlett Creek
For the dedicated ditch crawler who can follow the relatively tortuous entrance channel marked by buoys and perches, the creek is sheltered and accessible to boats up to about 4ft draft (close to high tide). You can moor against Victoria quay (for free) at the head of the creek. At the discretion of the harbourmaster, if he's about, you can stay overnight but you will dry out. The Ashlett Sailing Club is on the port hand side as you enter and visitors are welcome on the sailing club new pontoon. A short stay will cost £4 and, if you can dry upright, an overnight stay £8 (2010). The club always was, and I'm sure still is, very welcoming. Walk round to the Ashlett Mill (a private Club) where visiting sailors will be made welcome. (Thanks to Bob Grier for reminding me of this destination also to Richard & Sheila for corrections). The Jolly Sailor pub has re-opened (2010).
The entrance channel to Ashlett Creek has changed substantially (2010). It would be prudent to check entrance directions on the Ashlett Sailing Club site .
Guide price : Free on Quay / £8 overnight on pontoon (2010).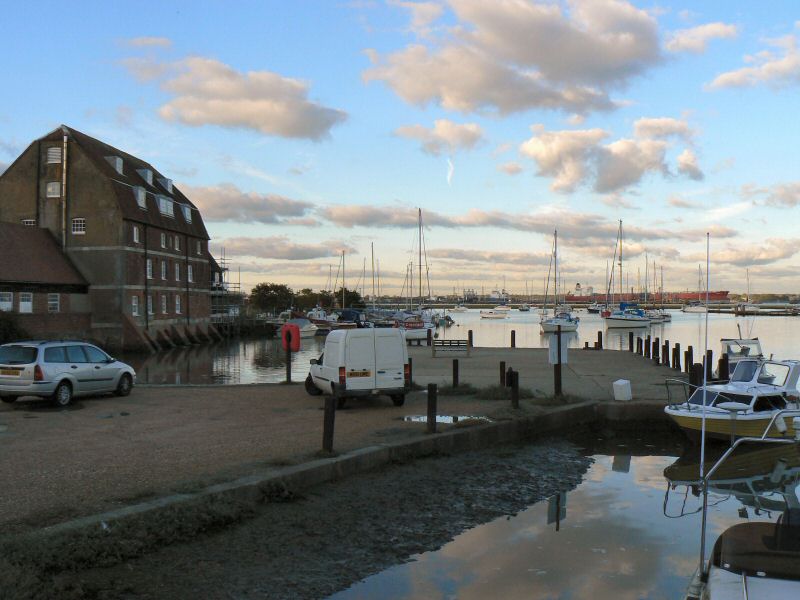 Victoria Quay looking out towards Southampton Water. Ashlett Mill on the left welcomes visiting sailors. Sailing club pontoon just visible middle right.