Flying Fox
Flying Fox is a Salterns Stag 28 designed by Peter Milne and Built by the Emsworth Shipyard in 1978. She has a draft of 3 feet, but with a heavy centreplate that will take the draft down to 6ft 9in. One of the major points that drew me to Flying Fox was the handbuilt, light ash finished interior. Unlike many GRP built boats of this size there is virtually no GRP visible below deck. There is an owners group with plenty of archived info.
We keep Flying Fox on a mooring in Portsmouth Harbour close by Portchester Castle and we belong to the Portchester Sailing club.
For the technically interested there's a page explaining how I re-engined Flying Fox
For those deeply interested there's a PDF Stag 28 Owners Manual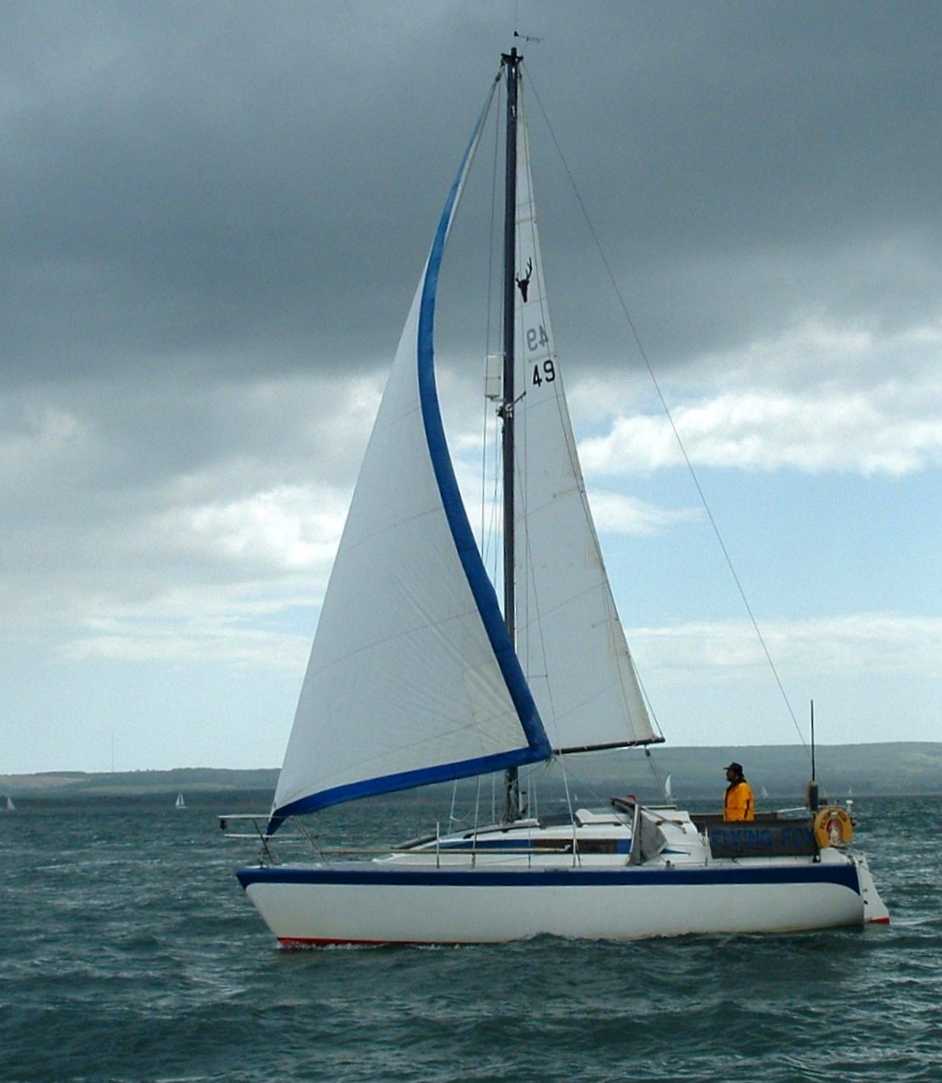 Flying Fox, 2003
After 6 Weeks...
Well we've been sailing Flying Fox for about 6 weeks now. It took a while to get used to a boat that heels (after 15 years of sailing multihulls), I got a few bruises in the first couple of days. First impressions are that the Stag is relatively tender and the amount of sail needs to be tuned to the conditions a little more critically than some others of her size. We've sailed in winds from F1 to F7 and found her to be comfortable and relatively fast. The sails can be balanced to give a near neutral helm and she will heel to quite an angle before she gripes. Under cruising chute she sails fast and level.
Under engine she handles very predictably ahead, but with a marked pull to port on the tiller. Going astern is a different matter, she pulls hard to starboard initially and I haven't yet mastered the art, it's still a bit hit and miss as to where we end up especially if there's any wind blowing.
In port or at anchor she is very comfortable for lounging both in the cockpit and in the saloon. The amount of stowage space is amazing, I haven't managed to fill it all up yet.
After the first season...
Well after a season's use we now have a good idea of what initial changes we want to make to Flying Fox.
The first addition is a proper through hull log/speedometer with a cockpit display. I found it frustrating not knowing precisely how changes in course affected the boat speed, especially when beating. The GPS, although accurate, didn't give a fast enough response and, of course, didn't give the speed through the water which is what really matters when trimming.
Next is a lazyjack system with a permanently attached sail cover into which the main will drop when it is lowered. This will make sail handling much easier when coming into a crowded anchorage because I won't need to furl and tidy up the sail until we're settled. I will replace the mainsail reefing cleats, which were on either side of the boom, with jammers all on the starboard side. This should make reefing the main easier, as will the lazyjacks/sailcover.
During the season I noticed that the rudder had a permanent 'wobble' when sailing. After much thought, and consultation with other owners, I came to the conclusion that it was caused by the disturbed water flow over the big three bladed prop. At the same time somebody found a couple of folding props of about the right size for £50 each which is an incredibly good price. Anyway, I obtained one of the props and, if I can fit it in time, I'll give it a try. If it doesn't work I may have to dry out during the season and replace the old one.
In the cabin we have some headlining and sidelining to replace. This is turning out to be a really messy job because the foam backing has decayed into a fine black dust which gets everywhere. We are replacing it with carpet type sidelining which is made for the job. I must say this is the most satisfying job so far because the result is immediately visible (and the glue can give you a real 'high'!).
All the other jobs are the usual antifouling, polishing, varnishing and engine maintenance work. Oh, plus I need to replace the water tank which sprang a leak during the season.
All the above has to be fitted into the four months from November to February. At present we are just about on schedule. I say we, but really it comes down to me. Janis does the washing at the end of the season then likes to forget about the boat until next season.
Second season...2004
Second season started well with some good weekends away. The lazy jacks work just fine and make sail handling that much easier, as do the clutches that replaced the cleats for reefing. The big difference came from the folding propeller which has nearly eliminated the rudder 'wobble' under sail. For some reason the prop seems more efficient too, although the stopping power has diminished. I can now also look into the forecabin without wincing at the state of the headlining.
Fairly early on in the year we had a disaster with the engine (ancient Volvo MD7A), the head gasket blew, letting water into one of the cylinders. This was motoring home from Poole on a bank holiday in flat calm. First signs were more than usual steam exiting from the exhaust followed by a very gradual diminution of power until, eventually, the engine died in tickover and wouldn't restart. During the week I removed the cylinder head and took it for skimming as there were grooves worn into the metal from the passage of water. The machine shop were unable to fully remove the grooves but I hoped it would be enough to get through the season. A new head gasket completed the repair along with a flush out and replacement of the oil. The repair lasted several months but eventually the symptoms returned as we were leaving harbour on a beautifully warm weekend. Rather than waste the weekend, we sailed on to Newtown where we anchored. During the evening I removed the head, filled the offending waterway and head gasket with 'plastic steel' and put it all back together again. Having left the engine overnight to be sure the epoxy had cured, I started up, with some trepidation, and it fired first time and ran like a dream. That repair has now lasted a month or so with no apparent overheating problems. I'm hopeful that it will get me to the end of the season in a few weeks time. I do so like these 'agricultural' diesel engines, they seem to put up with no end of abuse and 'botching' but keep running. This coming winter is going to be rather expensive.
One bit of good news, I've come to the top of the list for winter storage in the sailing club yard. That will save a good few hundred pounds, now I've got the job of making a pair of beaching legs ready for the craning in a few weeks time. Also went to the Southampton boat show and investigated all of the diesel engines in my size (10 - 20HP). The Vetus was impressively cheap but the winner was the Beta 13.5HP, mainly because the mountings are a close match for the old Volvo. Another reason, the people I spoke to on the Beta stand were interested and very patiently explained everything I needed to know. A little negotiating after the show got the optional (£100) shallow sump and a higher spec control panel included at the boat show price so the order went in for delivery in November.
For the curious there's a page showing how the new engine was installed.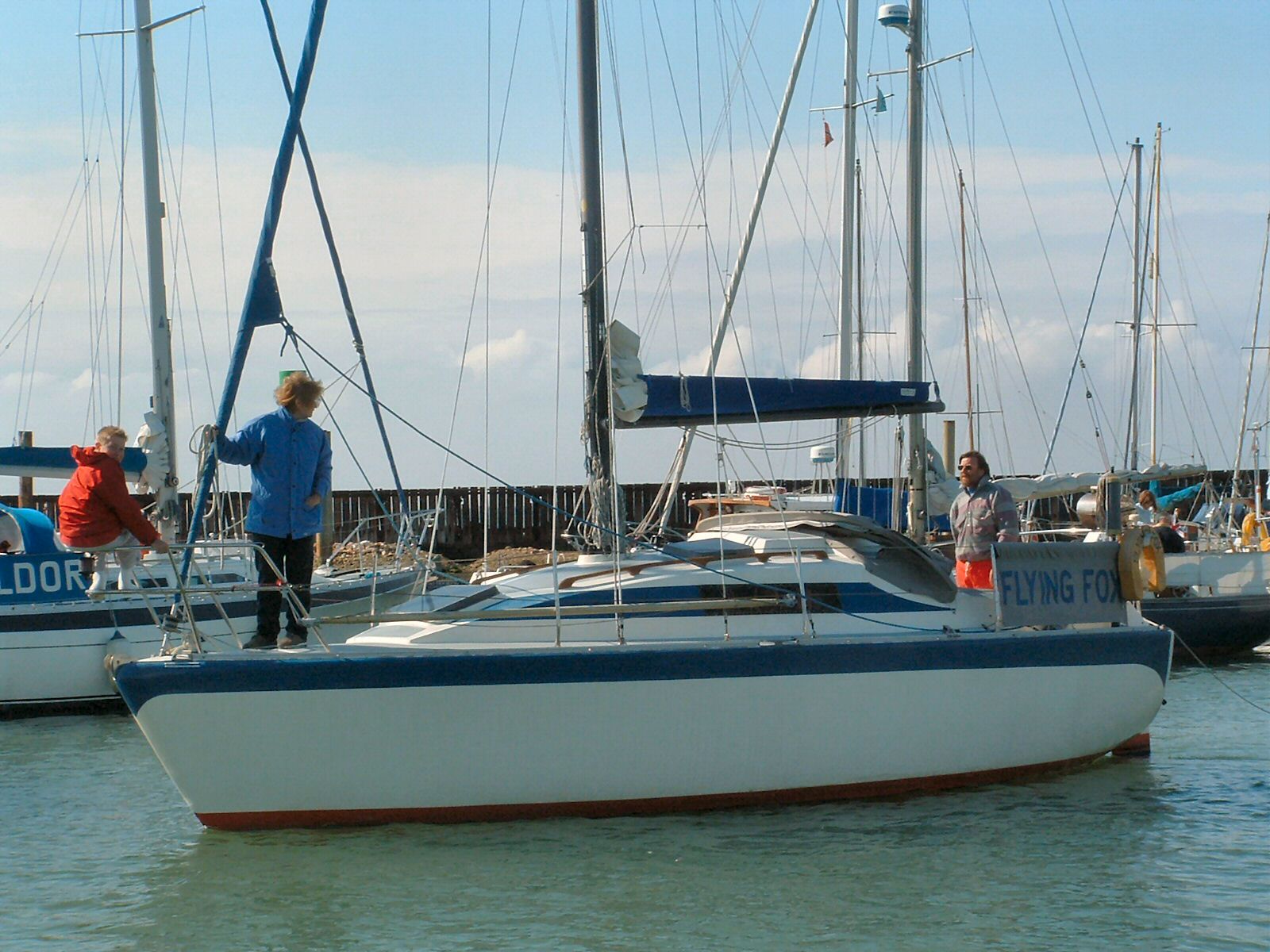 Flying Fox, 2004
Third season...2005
Well, obviously, the first thing to do was to check out the new engine. Happily it all works perfectly well. It ticks over at about 1200 rpm which seems a little high to me, but then it is a high revving diesel. Maybe I'm a little disappointed that the noise level is quite high, next winter's projects are already forming! What I am very happy about is that my propeller calculations were spot on. The engine revs to just over 3000 rpm and the boat's top speed is about 6.9 knots, more than I'd hoped. (I spoke to Beta and they confirmed that the engine should tickover at around 800rpm, a quick adjustment and all was well).
Over the last winter I also completed the installation of an (Ebay bought) Eberspacher warm air heater. The first weekend away in April included a very cold Saturday evening when the heater proved an absolute joy. The only problem was that it put the final nail in the coffin for my house battery which, by the time I got home was showing 10.5 volts and was beyond redemption. That's another £50+ to spend out.
.........................................................
Generally a good season, we've been sailing most weekends, with very few that have been blown out. I think I've only once had to wear oilies and that was at the end of the season. I'm still learning things about FF, this year I found that when beating, even into a force 6 and well reefed, she will sail herself quite happily, pointing high. I was even able to go below and boil a can of soup with FF sailing herself.
During the year I obtained a new 10kg Delta anchor (Ebay again). What a revelation. After years of using a generic plough anchor, with variable results, I now can sleep soundly knowing FF is not going to drag anywhere. The anchor bites almost immediately and is usually a hell of a job to retrieve because it's holding so well.
We are now at the end of the season again and winter maintenance looms. I have managed to 'inherit' (buy) a trailer in the club park (dead man's shoes). This gives me the freedom to come in and go out at times of my own choosing rather than being tied to craning dates. I have had to increase the width of the trailer, which involved some heavy steel work. This winter I will get craned into the trailer just to make sure it fits.
.........................................................
Deepest winter, the dismal month after Christmas. I've fitted a new loo, having got fed up with the pump leaking (and resisting all repairs) on the old one. This one is a new version of the Lavac, cheaper than the original, but exactly the same principle and the same pump. The worst part of this job was routing the very intractable plastic hose that has to run through various bulkheads and inaccessible cavities. Whilst doing the loo I replaced all of the ageing gate valves on the boat with ball valves.
I have fitted soundproofing panels to all the surfaces I can in the engine space. A mixture of 1" and 1/2" sheets that I picked up relatively cheaply from the chandlery barge at Bursledon. I stuck them up with liberal coatings of PVA adhesive and a few screws in the more precarious ones. It would have been so much easier to have done this with an empty engine bay. The panels don't bend very much so maneuvering them into place when fully coated with adhesive is a messy occupation.
Apart from making some new cockpit dodgers, those are the main projects finished for this winter, the rest of the time, until March, will be taken up with cleaning and polishing the hull, antifouling, varnishing etc. etc. etc.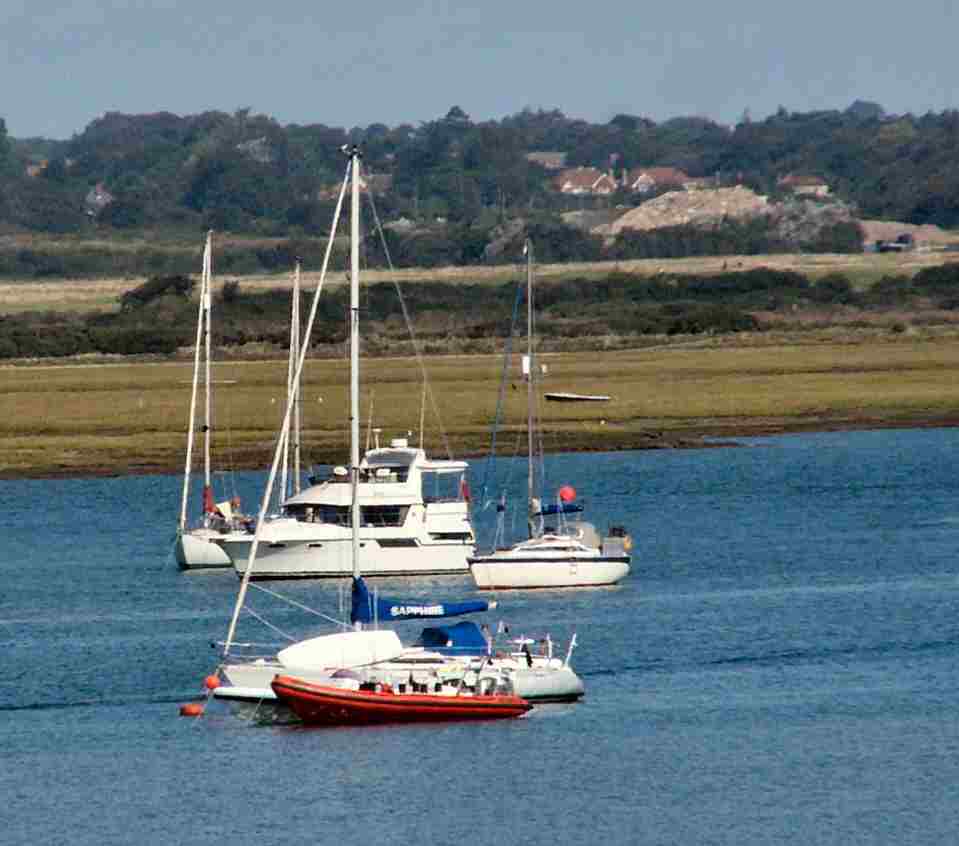 Flying Fox, 2005
Fourth season...2006
The sound proofing definitely works, thicker would be better but I'm happy with the result. The season started at Easter with a circuit of the Solent, taking in Cowes, Lymington and Newtown. Other destinations during the season were Owers Lake, Bembridge (expensive),Birdham and Pilsey Island. Overall we've spent 40 days on the boat, all weekends and bank holidays. Is it my imagination or is it getting windier? We've had a few weekends when the forecast would have made it foolhardy to have gone sailing.
I've been playing with a chartplotter running on a PDA during the season. It's a great 'toy' and even came in useful on one occasion, in thick fog, short tacking along the shore to keep out of the tide. I wish I could justify the cost of a full sized one. Having downloaded all the tracks onto the PC it makes a very interesting spider's web in and around the Solent.
It's amazing how an expensive project always pops up during the year, this time it's the sprayhood that's reached the end of its life. For a lot of the season it's had several patches of gaffer tape keeping it together. Ideally I would get one of the local cover makers to re-make and fit a new one but, after getting several quotes, Quay Sails in Poole came out a lot cheaper. They made the original and they reckon they can copy it closely enough to not require a personal visit to fit it.
Another thing I'm getting fed-up with is the anchor taking chunks out of the gelcoat every time we lift it. The bow roller just doesn't extend far enough out to keep the anchor clear of the relatively vertical stem. I'm in the process of making a cardboard mock-up of an extension that will fit inside, and bolt to, the existing fitting. When it's done, I'll get the local 'stainless man' to weld it up.
At present we have a three quarter tide mooring, just grounding in soft mud on most tides. As it's quite sheltered and close to the club slipway we've been quite happy with it. A major drawback is that we get quite severe barnacle infestation that the current anti-fouling paints just can't cope with. I reckon that by the end of the season, if we haven't managed a scrub off, we are losing a knot or more of speed. We have been offered a deep water mooring for next season that's a bit more exposed and a bit further from the slip. After a little contemplation we have decided to go for it. I knew our own mooring intimately having laid it myself several years ago. An annual visual inspection of the warps, shackles and chains was sufficient to assure me of its longevity. A new mooring is an unknown quantitiy and that means that I will have to get down and dirty in the mud giving the new mooring a thorough check over.
Flying Fox, 2006
Fifth season...2007
Out of the yard and onto our new mooring at the end of March. Our first trip out is over the four day Easter Bank Holiday and we enjoy a light wind and sunshine sail to Poole. Brownsea Island is exquisite in the spring sunshine.
I had the stemhead bow roller extended over the winter and it works a treat. The anchor now stows on the roller without nibbling at the GRP and I can raise the anchor without taking chunks out of the stem. Another improvement over the winter was to fit a pair of Lewmar 40 2-speed winches bought at a boat jumble for a knockdown price. (I even managed to sell my old, smaller, winches on E-bay for more than they originally cost me). I can now winch the large genoa without putting my back out.
We have probably done fewer miles this summer than in previous years, partly because we took a three week camping holiday around the south of France and partly due to some miserable weather on a few weekends.
All the rain over the summer revealed a weakness in our forehatch, the bedding is brittle and the crazed plexiglass is letting in water around the edges. Rather than get new glass and try to re-seal it I've decided to replace the whole thing. The Lewmar Ocean 60 would be the ideal but for £100 less I can get the Gebo equivalent which is perfectly adequate for Fox. I fitted the new hatch in the early part of the winter; it looks good and is well made. Another job for this winter is to take the antifouling back to the gelcoat, it has become thick and crazed, I'm convinced it is taking a half knot off our speed. In the end I only take half the hull (starboard side) back to gel, it's just too much like hard work. I'll do the other side next year (maybe).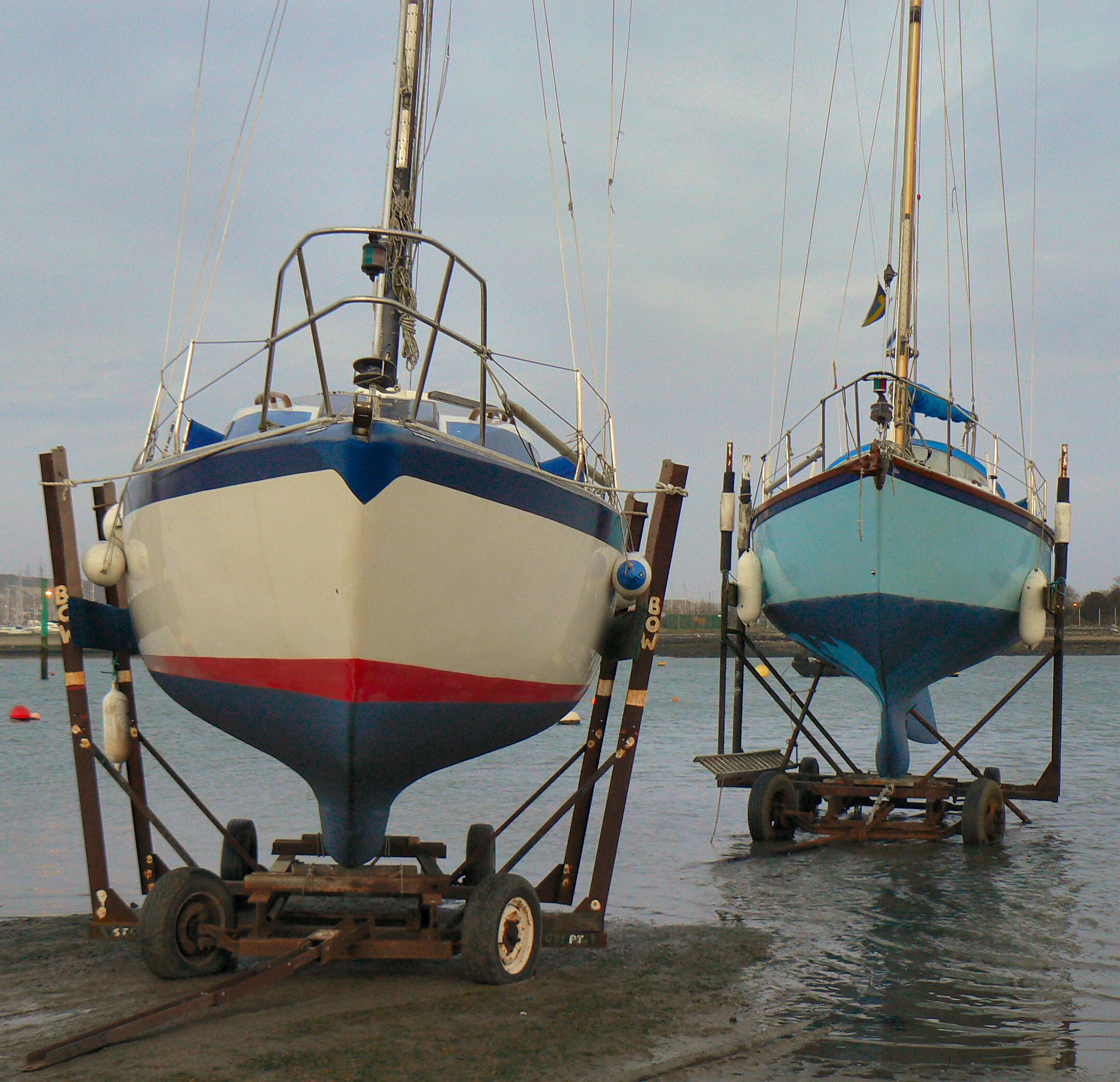 Flying Fox, 2007
Sixth season...2008
We didn't get to sail FF until the beginning of May this year. The weather had been hopeless since we launched. We are now both retired from work (early) so many of our weekends away turn into 3 days, deciding to stay out for Sunday night to enjoy a little of the solitude which we used to find 25 years ago. We often sail, and anchor, in company with another boat so we still tend to sail weekends.
I can't believe it but this year turns out even worse than last year for nasty weather. We spent less than 40 days on the boat and sailed less than 500 miles. That's the fewest days/miles since we had our first boat, a 20ft Vivacity, nearly 30 years ago.
This winter I scrape the port side of the hull back to the gelcoat. Hopefully next season we will get the full potential out of the boat with the bottom being smooth all over. No major changes or additions this winter, just the usual engine maintenance, hull polishing, antifouling, rig check, sail check, varnishing etc. etc... On checking the rig I did find an alarming problem, one of the U-bolt type fixings for the masthead shroud had parted inside the deck. My guess would be crevice corrosion had been at work for a few years and I suspect we were very lucky not to lose the mast during the year. Of course that meant having to replace that fitting (and its partner) but also removing every other fitting and examining with a magnifying glass. Luckily all the others appeared OK.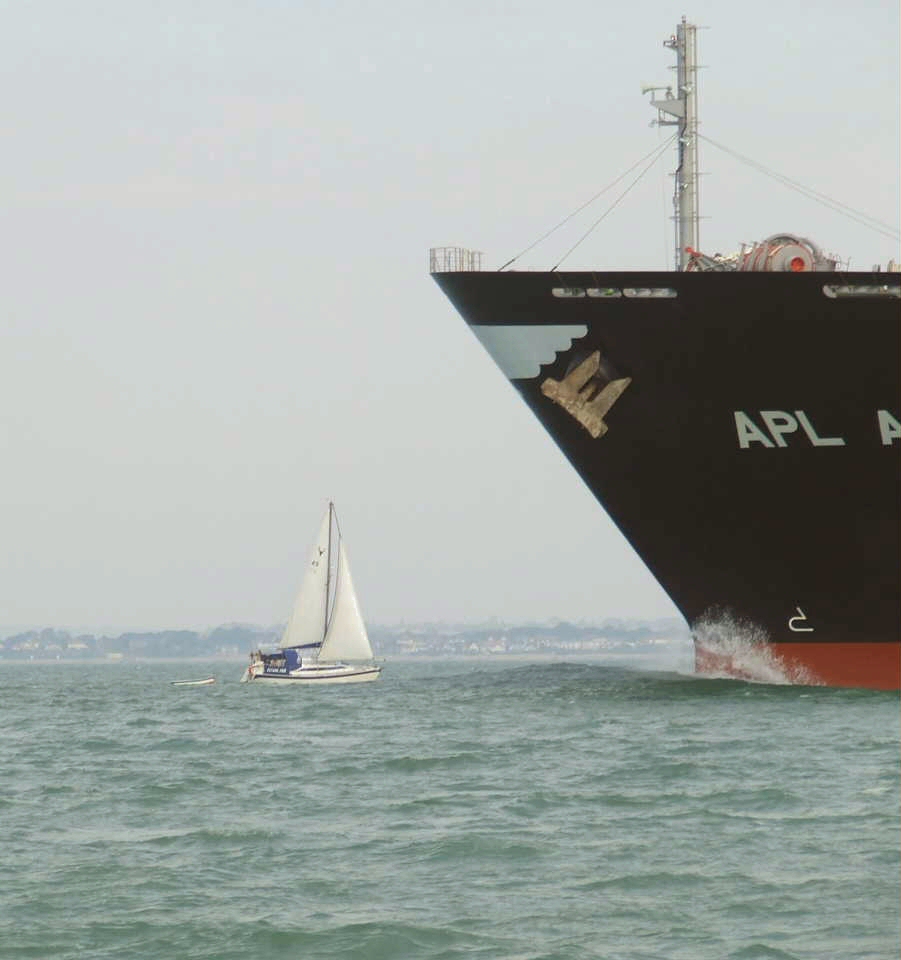 Flying Fox, 2008
Seventh season...2009
Well, this has been a much better season weather wise. It started with unseasonable warmth and sunshine in mid-March and went on 'til mid-Ocober. We had 60+ days onboard and sailed close to 1000 miles, much more like the 'good old days'. The sailing was mostly made up of 3 day weekends but we did manage to spot a good week coming up so took the opportunity to head off toward Poole. We spent a lovely week checking out old haunts like Pottery Pier, Shipstal Point and Ridge Wharf inside Poole harbour. Also spent a couple of days swimming and enjoying the sunshine anchored in Studland Bay.
Again, this winter, there is no big project to get stuck into, just the usual maintenance. I did check the attachment of the lifting cable to the centreplate. This involved digging a hole under the yard trailer into which the centreplate could drop. As it turned out, the cable is fine but the fitting on the centreplate was very corroded and worn. I think it would have failed sometime next season. So it was out with the angle grinder to remove the old fitting and to fashion a new one. A very obliging club member welded on the new fitting and I epoxy painted to keep the corrosion at bay. Also found a (cheap) source of 12mm marine ply so fashioned a new set of washboards to replace the rather tacky thin ones we've been living with since we bought the boat. I'll keep the old ones to use in the winter, hopefully saving the immaculate (?) varnish of the new ones.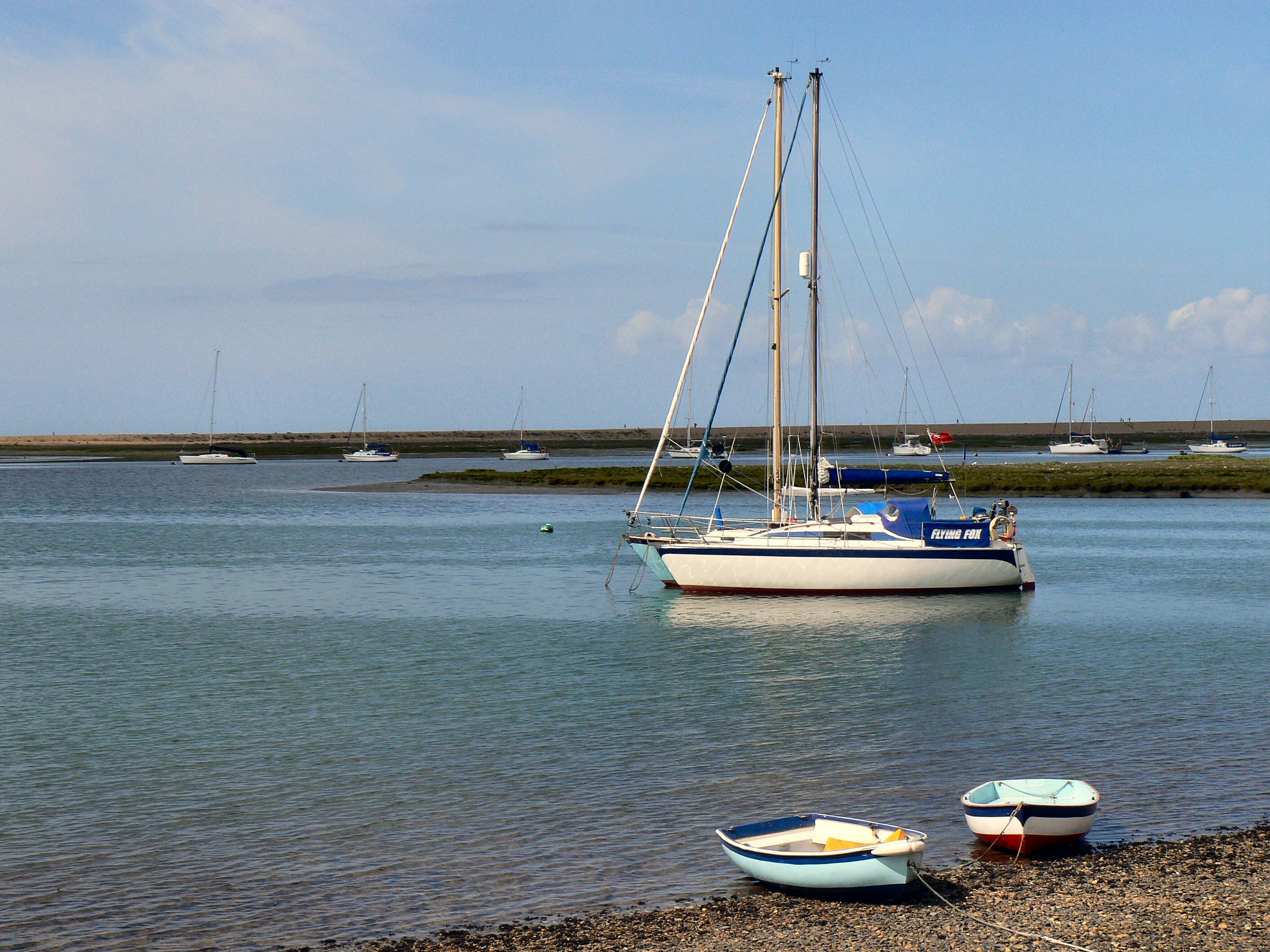 Flying Fox, 2009
Eighth season...2010
Another fairly good year weather-wise began, for us, on 10th April after a couple of dodgy weekends. There weren't too many weekends during the season when the weather put us off. We did seem to spend an inordinate number of weekends in Newtown, but it is a beautiful place to anchor. Other destinations included Marchwood, Owers Lake, Pilsey Island, the Folly, Emsworth, Keyhaven and Sweare Deep. At the end of August, beginning of September we had a 10 day mini-cruise down to Poole. We anchored at Pottery Pier, Shipstal Point and Wareham Channel. We also had a night at the Ridge Marina with a dinghy trip to Wareham to do the supermarket shopping. Had really good weather for swimming and walking on Brownsea Island and the Arne peninsula. This year we didn't anchor out in Studland Bay because the wind was constantly in the east and it would have been a bit 'rolly'. It all adds up to 60+ days aboard, similar to last year.
Nothing major to do this winter, just the normal engine maintenance, varnishing, cleaning and anti-fouling. I'm feeling very virtuous because I removed the cooker and gave a thorough cleaning to the area underneath it. The area is unreachable and gradually gets to a point where it is growing fungi... I am also making a couple of stern quarter seats which will fix to the corners of the pushpit and, I hope, give me an extra, comfortable perch where I can sit and watch the world go by.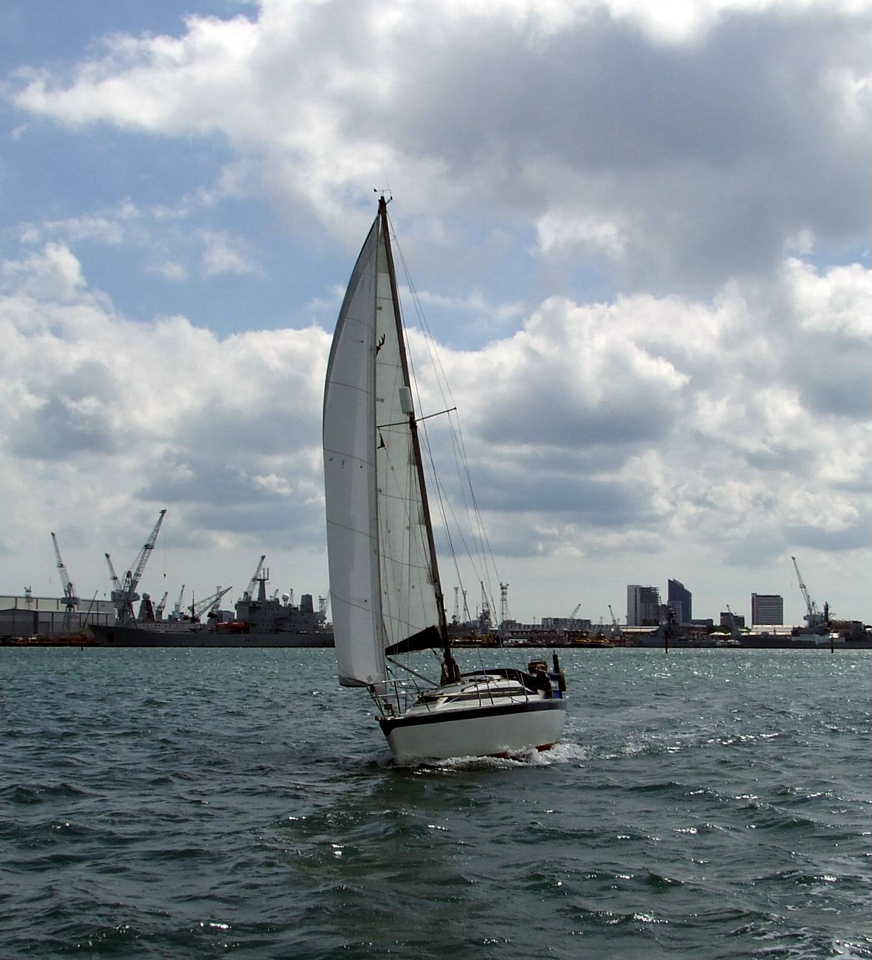 Flying Fox, 2010
Ninth season...2011
Our season starts inauspiciously at the end of March with me getting our mooring strop caught round the propeller. Luckily it was a sunny day with little wind. After an hour of sawing with the bread knife on the end of the boathook we were free. Easter saw us head off down to Poole for a couple of days. That was a beautiful, light wind, run under cruising chute from Gilkicker to the East Looe channel. For the rest of the season it has been mostly 3 day weekends. Altogether we had 50+ days aboard and covered some 750 miles. I'm not sure about the pushpit seats I made last winter; we didn't use them as much as I thought, but they don't get in the way so I'll probably give them another year.
This winter I intend to replace the stern bearing (as I have intended for the last 5 years). It is a white metal bearing so I have to get that machined out then fit a new 'Maritex' composite bearing which gets epoxied in place. The carrier isn't big enough to fit a normal cutless bearing. I've a bit of sewing to do on the covers, sprayhood, dodgers and sails. I have repaired one of my Lewmar 40's which was suffering from a pawl falling out of its socket and jamming. It's been running on just one pawl for half of the season. I have drilled down through the centre of the pawl and inserted a small machine screw tapped into the drum to hold it in place. It seems to be working perfectly and has saved me the considerable cost of having to obtain another winch from somewhere. Engine maintenance is done and the rest of the varnishing. cleaning and painting will follow as usual.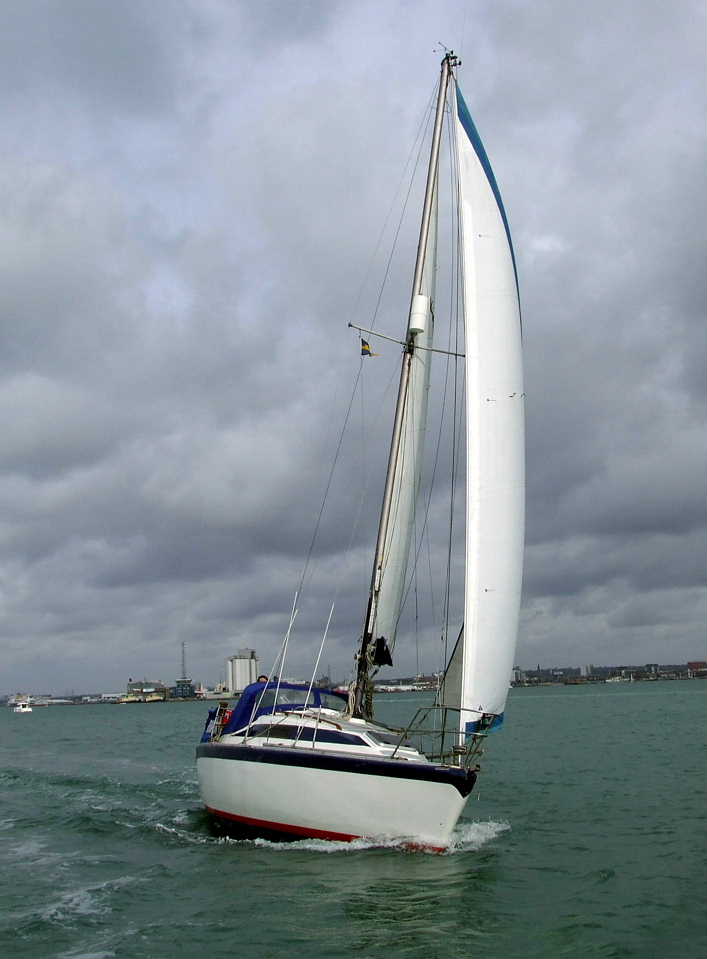 Flying Fox, 2011
Tenth season...2012
Not a brilliant season with some strong winds and plenty of rain. We started off well at the beginning of April with a long sail down to Poole where we visited Brownsea Island and the Arne nature reserve. After that it's into May before the weather allows us out again. We spend some weekends visiting Newtown, Newport, the Folly, Cowes, Owers Lake etc but the good weather never really kicks in. By mid-August we are sick of the lousy weather so head off in the car to southern France for a couple of weeks of sunshine. When we get back we manage a couple more weekends up to mid-October before lifting out for the winter. Overall we only covered 570 miles and 39 days on board, a very low total.
During the winter I have decided to renew the rigging as it's at least 10 years old and probably a lot more, the insurance company would have a perfect way out if I had a problem. Loads of quotes later it looks like £450 for backstay, main shrouds and 4 lower shrouds with chromed bronze rigging screws. Forestay is inside an old Rotostay so requires specialist treatment that looks like about £140. See the Odds & Sods page for diagrams of how the Rotostay is put together. Unfortunately the UV strip on the genoa has reached the end of its life too so that is going to be replaced, I have saved 25% on cost by removing the old strip myself, making a total of £160. It's going to be a very expensive winter.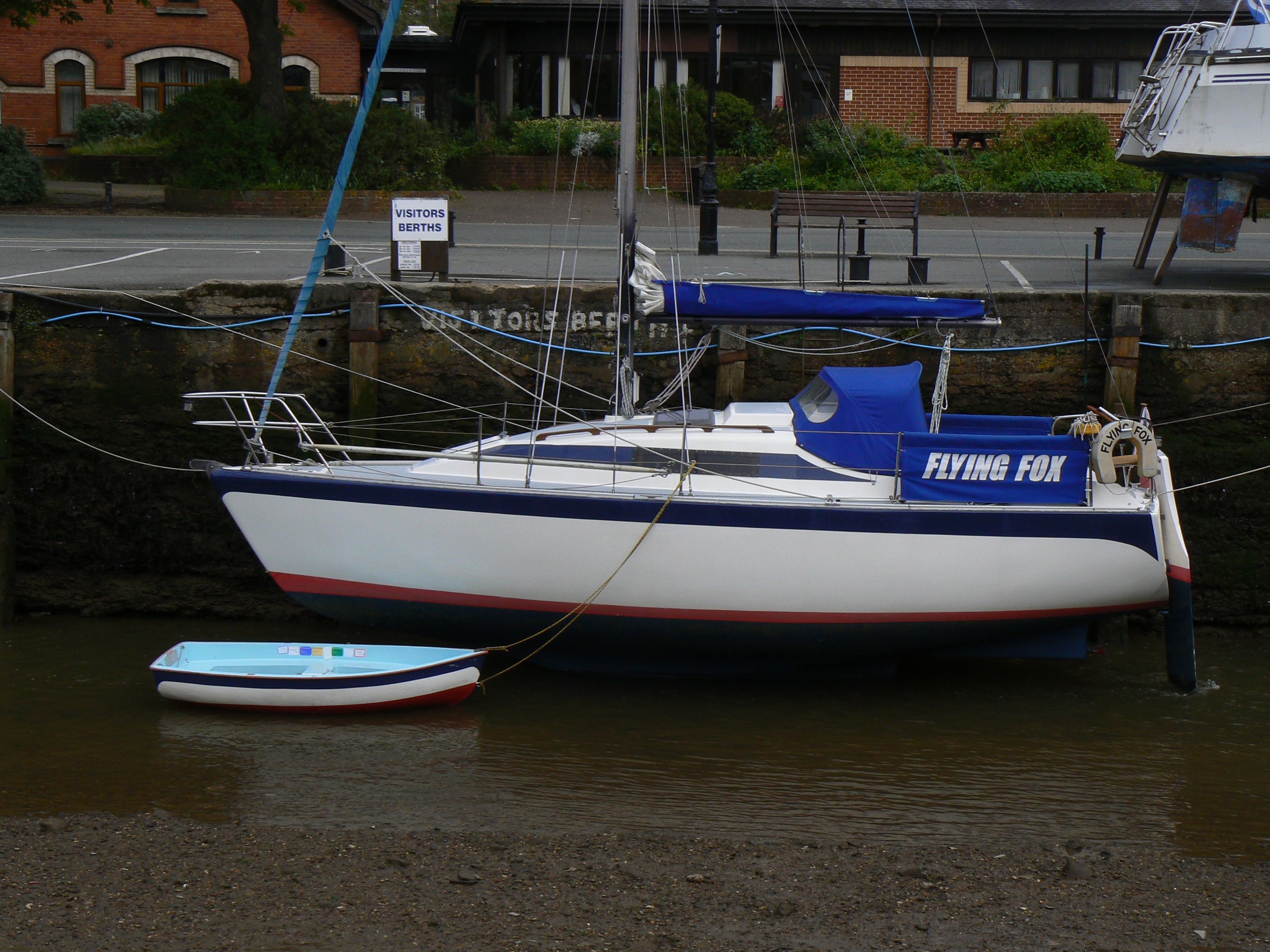 Flying Fox, 2012
Eleventh season...2013
All the new rigging and sail maintenance came in as per the quotes so I'm happy with that. Just before the new season started I came across a second hand Flexofold propeller that was more or less the right size/pitch for Flying Fox so I splashed another £130. It was just too good an opportunity to miss. I've been looking for a folder ever since I re-engined in 2004.
Initial rigging went well, everything fitted perfectly, especially after I had put out a call to members of the owners association for information about the lower shrouds, one set is shorter than the other and I had foolishly forgotten to mark which was which when I removed them. First trials with the folding propeller went well. It looks like it's a bit overpitched as the engine won't run up to full revs but it's not that far out.
Quite a good sailing season this year that started early April and lasted through to mid-October. We visited all of our usual haunts; Newtown, Owers Lake, Marchwood, The Folly, Cowes, Keyhaven, Osbourne Bay,Seaview, Beaulieu River, Pilsey Island and Sweare Deep. We had a few days around Poole Harbour anchoring in South Deep, Shipstal Point and at Pottery Pier with plenty of walking done around the nature reserves. Another good day out was a sail to Bournemouth Bay where we anchored in front of the beach, with several hundred others, to watch the air display. Weather was warm and settled and the flying spectacular. Overall we covered 700 miles and 50 days on board, a fairly normal total.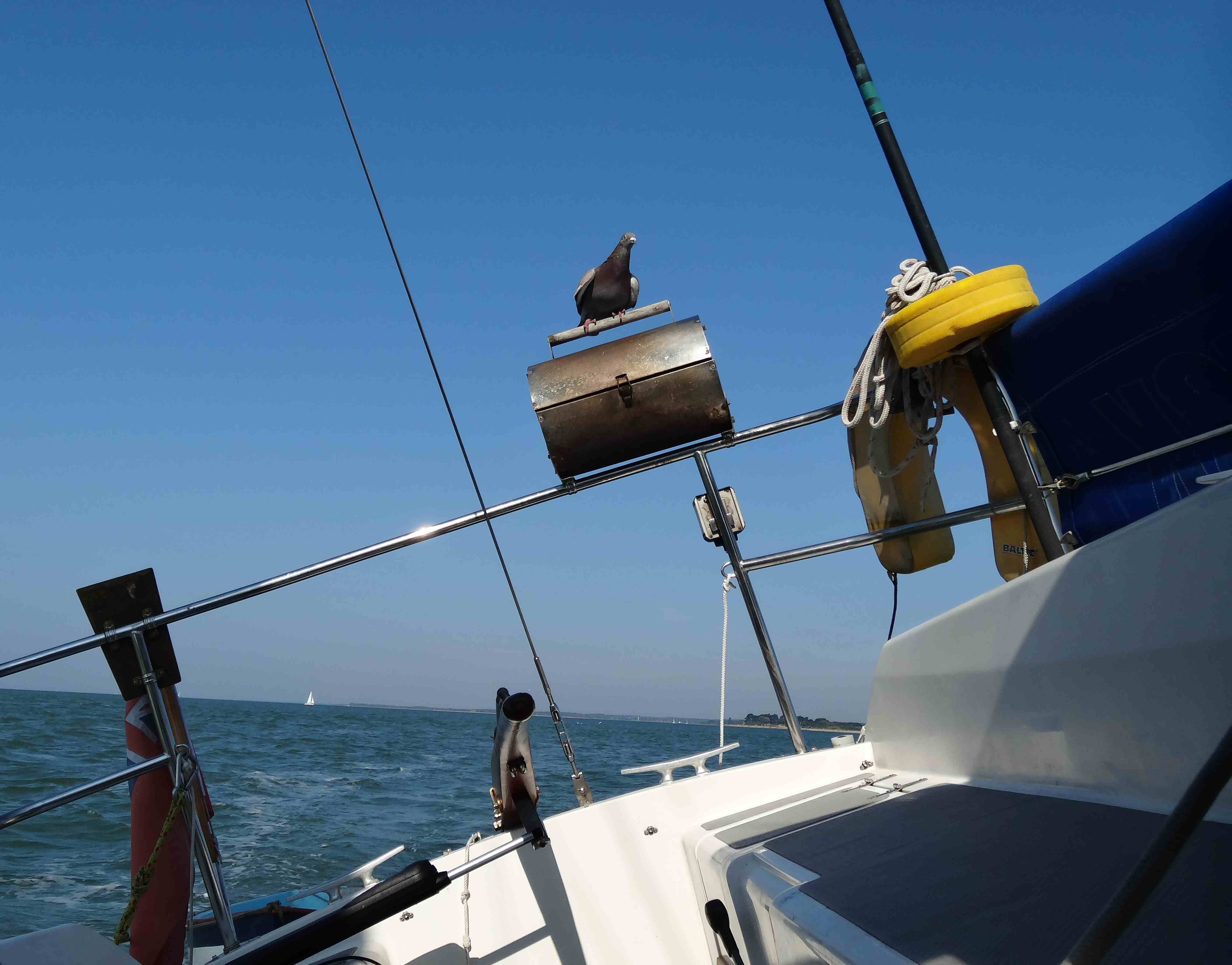 Flying Fox, 2013
Twefth season...2014
During the winter, as well as all the normal maintenance, I had a good look at the gas system. I fitted a new 'marine' bulkhead gas regulator and replaced the piping inside the gas locker. I also added a 'holddown' for the gas bottle so it can't fall out if we are inverted. If that were ever required I suspect the gas bottle would be the least of my worries. I fitted a new stereo radio head that accepts all this modern iPod and MP3 music plus a decent pair of speakers that don't buzz every time the volume gets a bit loud. The first time we went out to sail I found the bilges full of water. Feelings of panic ensued until I tasted it and found it to be non-salty. The old flexible water tank had split. Second weekend out and the topping lift frayed through, how did that happen? I improvised a topping lift by throwing a rope over the spreader roots until I could get someone to haul me up the mast to try and thread one down inside the mast. Luckily a second hand but unused boomstrut came up for sale the following week so I took the opportunity, bought and fitted it. I can now wait until the mast is down again before threading a new topping lift which will now give me a spare halyard. I managed to find a new inner for the 150L water tank which was relatively easy to fit.
This was a good season that lasted from the end of March to the end of October. We managed a couple of trips to Studland and Poole harbour especially enjoying the warm weather of July. We visited many of our normal weekend haunts... the Folly Inn, Owers Lake, Newtown River, Pilsey Island, Sweare Deep, Beaulieu River, Keyhaven, Marchwood and Emsworth. Overall we covered 800 miles and 59 days on board, a rather better than average total.
Near the end of the season Flying Fox managed to break her mooring and was rescued by a splendid crew from Trafalgar Wharf in pretty appalling weather. We were very lucky that there was no damage to Flying Fox and we managed to borrow a spare mooring for the last weeks of the season. Now we are faced with trying to raise and re-make our mooring before the winter is out. The trials and tribulations of boat ownership!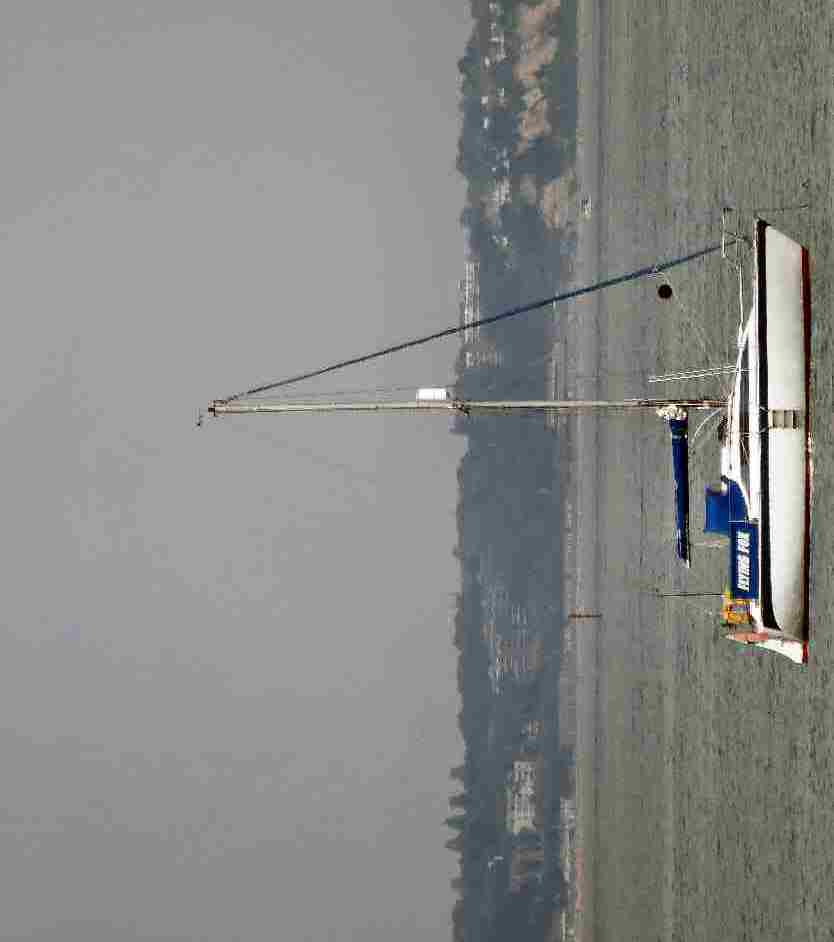 Flying Fox, 2014
Thirteenth season...2015
I got on with the routine maintenance early this winter because I knew I had a lot of work to do on the mooring before I could launch for 2015. Unfortunately I was struck down with what turned out to be rheumatoid arthritis, it took about six weeks before I could even think about Flying Fox. Consequently the normal polish, paint and varnish cosmetic routine fell by the wayside, I had to think about the mooring.
We dragged a grappling hook over the site of my mooring and were very lucky to snag a chain. Returning with the club mooring barge and a strong crew we were able to lift the whole lot (4 heavy anchors, a 200Kg sinker and half a tonne of studlink ground chain). That was an exhausting few hours. The whole lot was dumped on the beach. Over the next week or so I was able to straighten everything out, replace worn shackles and chain and add two new 36mm polysteel risers that I hope will last at least 10 years. The risers were made up and supplied by EYE Marine and delivered in short order, they look hugely strong. Another trip in the mooring barge had the mooring picked up from the beach and re-laid in our original spot. Flying Fox took up residence toward the end of April and, so far, is sitting happily.
Sailing was somewhat curtailed this year as the medics attempted to get the rheumatoid arthritis under control. I had to choose relatively easy weather conditions as I had little strength in shoulders/arms/hands etc. The weather wasn't altogether co-operative either. We visited Newtown, Cowes, Yarmouth, Beaulieu River, Chichester, Owers Lake, Keyhaven and the Folly on various weekends. We also had a trip out during the America's Cup preliminaries to watch Ben Ainslie and co haring around in their catamarans. The spectator fleet was quite a party. Over the year we covered around 480 miles and spent 34 days on board, a miserably low total. We are hoping for better next year.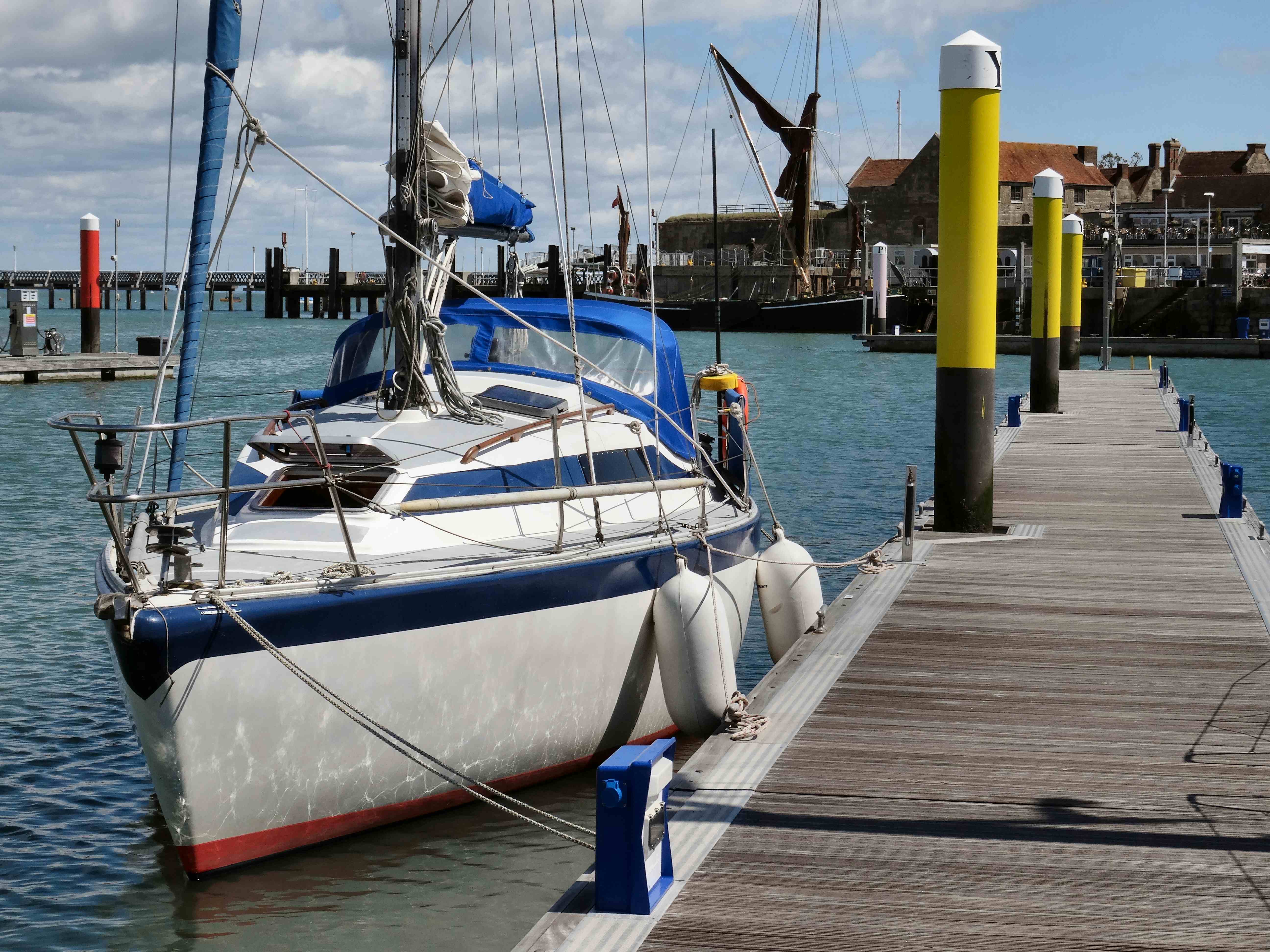 Flying Fox, 2015
Fourteenth season...2016
Over the winter I managed to get most of the routine maintenance done in good time. One of the engine feet had deteriorated because diesel had dripped (poured) onto it each year whilst changing the fuel filter; the rubber had 'melted' and the foot was more or less swinging free. I obtained the correct foot and was able to replace it by unbolting the carrier from the engine, fitting the new foot to the carrier and rebolting the carrier to the engine. Having not needed to loosen the other feet meant that engine re-alignment was a straightforward task.
Since 2011 I have been sailing with a dodgy Lewmar 40 sheet winch, I set up a determined watch on ebay for replacements. Bought a pair of old chrome ones where the chrome was shot but the mechanics were good. Spent ages removing the old chrome and polishing the bronze to produce a pair of very handsome winches. I then realised that they were so early that they had to be unbolted from the deck to do a full service. As I like to fully service my winches annualy I put them back on ebay and doubled my money. I then found a pair of chrome Barient 24 (same power as Lewmar 40) winches and got them for a good price. I gave them a proper service and fitted them to the boat. I am very pleased with them, they seem to be at least as well engineered as the Lewmars and can be fully serviced without unbolting from the deck. My old rubber 'Winchers' fit too, making them almost self tailing.
Whilst the winches were off the boat I gave the non-slip paint on the deck and cockpit coamings a new coat. I used smooth masonry paint by Valspar which I could get colour matched to my existing paint. Got it from B&Q at non-marine prices.
On a spending spree I found an unused, near new Simrad TP32 tiller pilot at a really good price (less than a new TP10) so snapped it up. I've been expecting my old TP20 to give up the ghost for the last couple of seasons, it has been very noisy.
Launched on Good Friday, storm with 65 knot winds on Easter monday. Several local boats torn off their moorings and wrecked on the shore. Luckily, our new(ish) mooring held FF safely.
Starting at the beginning of April our destinations included Sweare Deep, Newtown, The Folly, Owers Lake, Keyhaven, Pottery Pier, Shipstal Point, Studland Bay, Emsworth, Cowes, Pilsey Island and East Head taking us through to mid October. We spent a delightful couple of hours watching the seals in Chichester harbour. They seem to be thriving and we counted around 30, many more than on previous visits. A better sailing year with a little over 700 miles covered and 55 days on board.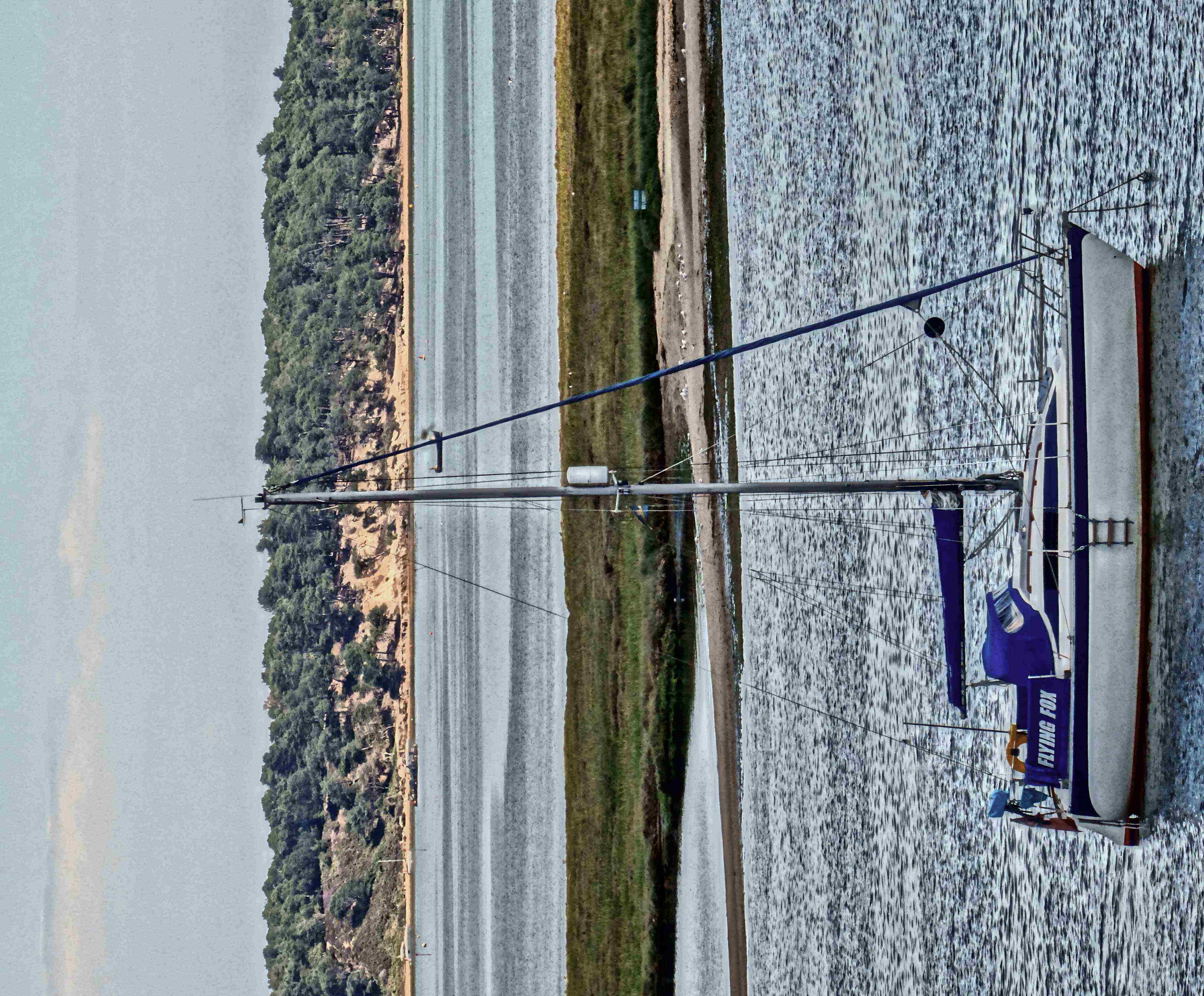 Flying Fox, 2016
Fifteenth season...2017
Arthritis has robbed me of a lot of the strength in hand and arms which makes anchor and chain handling rather painful and precarious. I searched for and found an old Lofrans Royal anchor windlass on ebay. Took it all apart, cleaned it up and replaced all the nylon bearings on the various shafts. I've fitted it to the foredeck and it seems to work OK with the boat on dry land. I'm hoping it will make life a little more comfortable.
Toward the end of last season we kept getting 'low-battery' warnings coming up on the plotter so over the winter I tried a few capacity tests on the house battery and found it was down to about 50Ah (from a nominal 110Ah). It has lasted a good seven seasons so I'm not really disappointed. Fitted a new 110Ah 'dual purpose' battery.
Because of the battery low warnings my mind had been pondering the benefits of a solar panel. Investigations indicated I had room for a 30 Watt panel on the hatch garage ahead of the sprayhood. I fitted a semi-flexible panel from Lensun with a cheapo 10A PWM regulator connected to the house battery. Because it's laying flat and will be subject to shading from the mast and boom I'm not expecting miracles but I'm hoping it will keep the battery topped up while the boat sits idle.
For the last few years I've been a little concerned with the state of the burners on our old cooker. I've cleaned them, bodged up the fixings etc. but the rest of the cooker was showing its age. A fairly aged but little used Spinflo Nelson came up on e-bay so I bid and won it. After a thorough cleanup I used the gimbles and pot holders off the old cooker with very little modification and we have a cooker that looks virtually new. Certainly grill and oven seem much more efficient..
Launching took place on 2nd April with light winds and sunshine. I spent a week replacing cross members, painting and maintaining the yard trailer. Destinations this year included Keyhaven,Owers Lake, The Folly, Newport, Newtown, Osborne Bay, Marchwood, East Head and Pilsey Island. A week spent around Poole Harbour added South Deep, Pottery pier, Shipstall point and Studland Bay to the tally. Overall it was a pretty good season covering 750+ miles and with 61 days on board
I don't use it every time but there have been a few occasions when I have been very pleased to have fitted the anchor windlass, mainly when it has been blowing hard. The solar panel too has proved it's worth, the battery is always topped up when we arrive on board, we can even get the Eberspacher (heater) to start up without having to run the engine.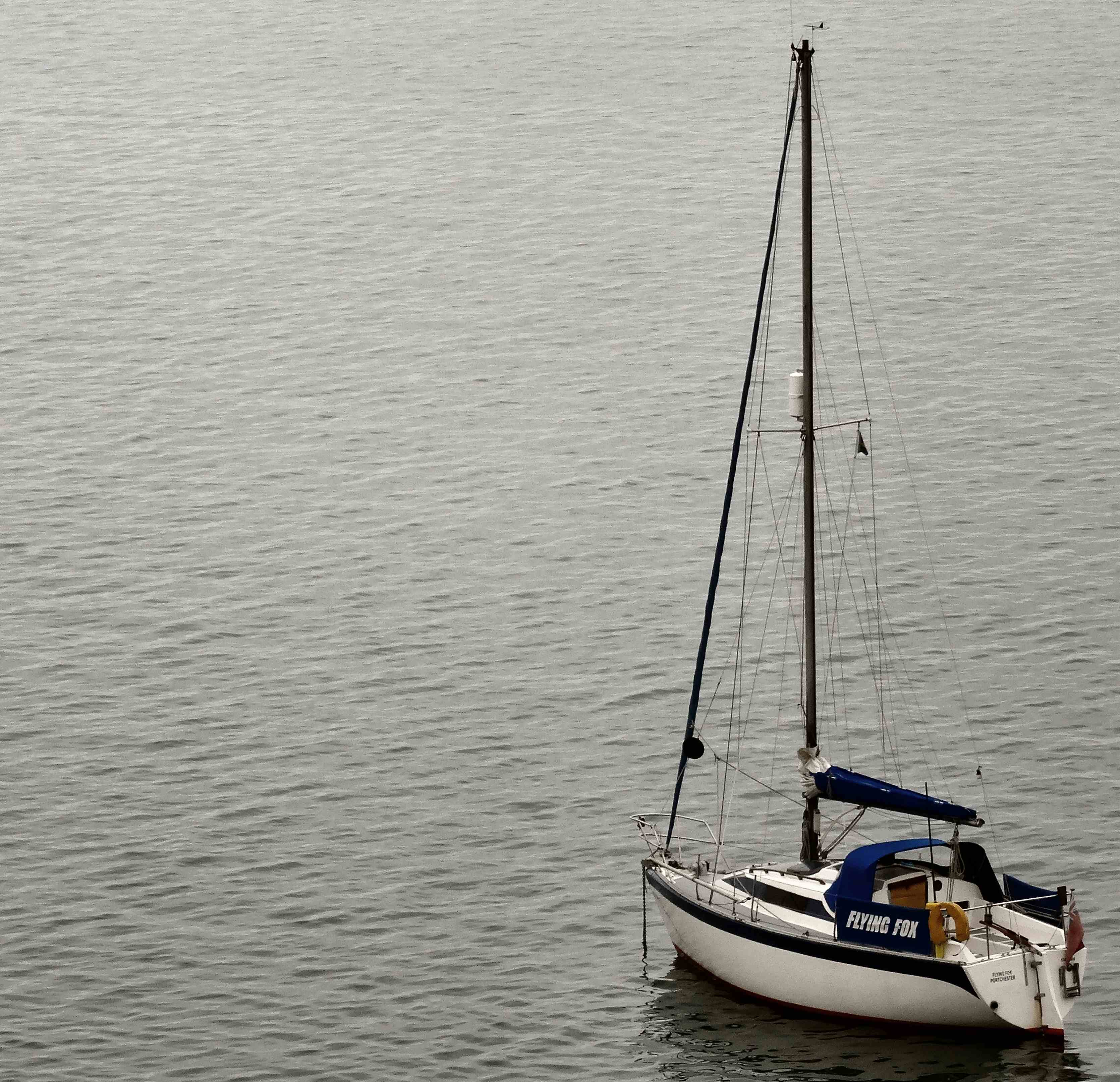 Flying Fox, 2017
Sixteenth season...2018
Whilst winterising the engine, running fresh water through the cooling system, the exhaust elbow blew. Removing the blown elbow was a nightmare. Of the four bolts holding it on, three sheared just under the head, the fourth came out with violent persuasion. Luckily, once the elbow had been slid off, the remains of the three sheared bolts were enough to get a grip on with mole grips and then came out relatively easily. The new elbow was easily fitted. I will, in future, be removing each of those four bolts every year to ensure that they don't corrode in again.
The transom hung rudder was starting to get a bit wobbly and there were rust weeps from the fixings. I took the whole thing off, replaced all the bolts with 316 stainless, replaced and added some delrin bearings and got a friend to turn up a bronze bush. When the parts were all re-attached, bedded and fitted the rudder felt a whole lot more positive and solid.
Over the years extra bits of electric and electronic kit have been added, this had resulted in a plethora of extra switches dotted around the general area of the original 6-switch panel. It looked a mess which was only exceeded by the mass of wiring in the dark recesses behind the panel. I found a 12 switch fused panel that fitted roughly the same space as the old panel. Armed with wire cutters, ratchet crimper, lots of crimp terminals and proper tinned wire I set to. I now have every wire labelled, bundled, cable tied and supported in a loom and a switch panel that has the correct sized fuses and switches that actually control what it says on the label. Emboldened by my success I built an additional panel with a digital voltmeter that tells me the state of the two batteries and an exhaust temperature alarm that makes an ear shattering screech if the exhaust elbow gets too hot due to lack of cooling water. A final new panel houses the battery master switches.
Launched on 25th March in good weather. This was a good year with plenty of excellent weather. We had three separate mini-cruises down to Poole spread over the year and lots of weekends visiting our usual haunts. Anchorages included Newtown (of course), The Folly, Keyhaven,Beaulieu River, Pilsey Island, East Head, Owers Lake, Emsworth and Osborne Bay. On our Poole cruises we stopped at Studland Bay, South Deep, Shipstal Point, Pottery Pier and Ridge Wharf. Overall we cruised 850+ miles and spent 71 days on board.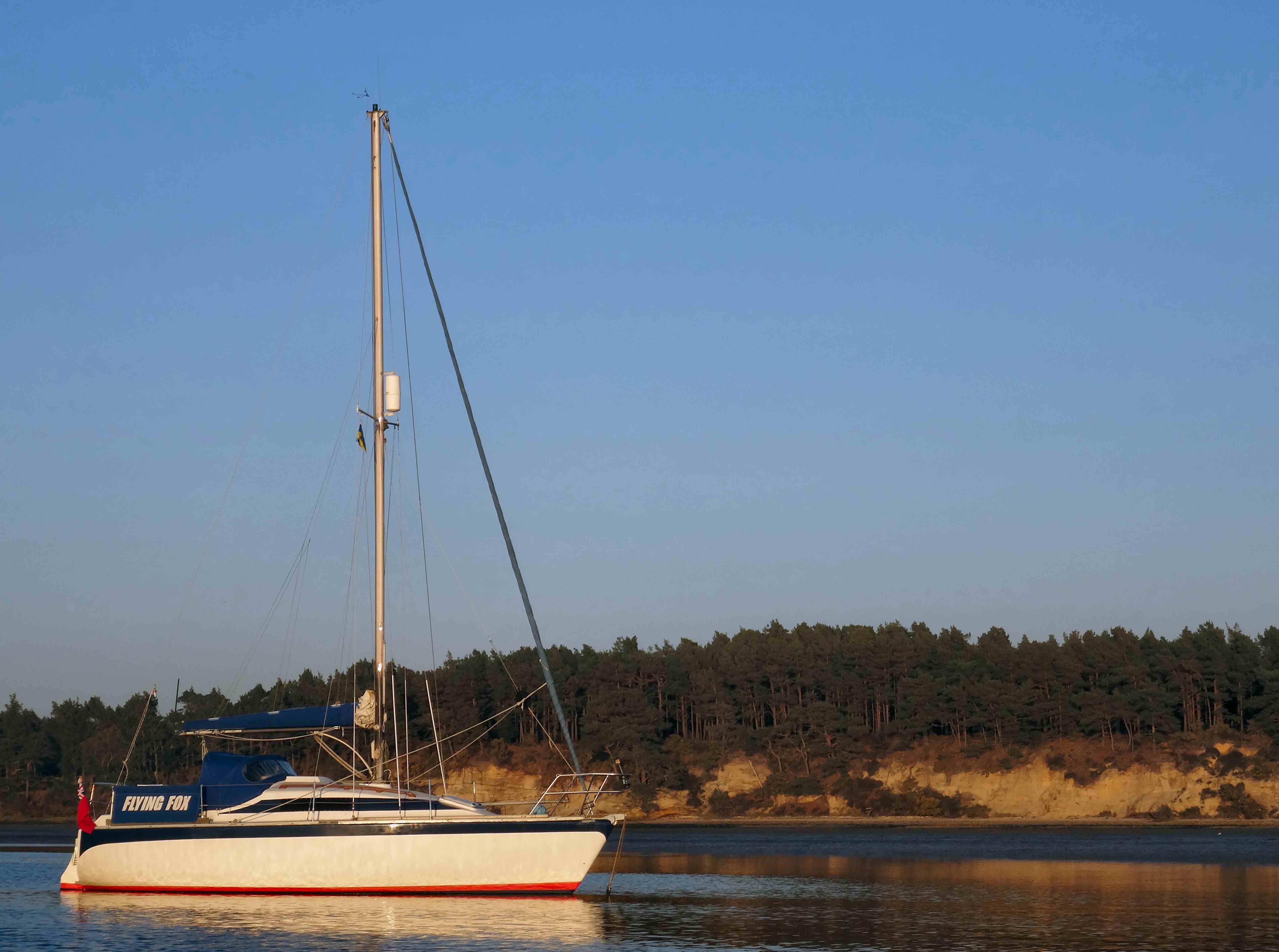 Flying Fox, 2018
Seventeenth season...2019
At the end of 2018 I discovered that FF had been rammed head on whilst sitting on her mooring; luckily, apart from a missing bow navigation light, there was no obvious damage. Fitted a new nav. light. New braid on braid halyards for main and genoa fitted. Replaced all of the rusting cabin cupboard hinges. Made up a new set of cabin curtains and scatter cushion covers. Made up and fitted an anchor chafe plate on the bow and a chain chafe plate under the windlass. Fitted new locker slide doors (5mm coloured perspex sheet). Replaced all of the guard wires with new 4mm stainless wire and swageless fittings. Fitted a stowage rail in the cockpit locker to take the small outboard.
Frustratingly, the club boat lifter (Sublift) has got hydraulic problems. This means that no boats can be lifted and, although we are on a yard trailer, we too are stuck in the yard and unable to launch.
Eventually an extraordinarily generous offer from the owners of Wicor Marine in Portchester saw their machine and crew arrive at the club to lift and launch the boats. Amazingly fast and efficient work soon saw the boats away to their moorings and we finally managed to launch on 1st May. We did, however, miss a truly extraordinary Easter with high temperatures and light winds. This was an up and down year with high winds and a cataract operation wiping out virtually the whole of June, then mid-September to mid-October being blown/washed out. Early July we got 10 days on board to 'do' Poole and its environs (South Deep, Shipstall Point, Brownsea Island, Ridge Wharf) and August Bank holiday week we were joined by our son Jack and his partner for a week of idyllic sailing which we all enjoyed. Other places we visited were the usual... Pilsey Island and East Head in Chichester, Newtown, Marchwood, The Folly, Keyhaven, Osborne Bay and Bucklers Hard. We made the most of what we got and totalled about 620 miles and 47 days on board.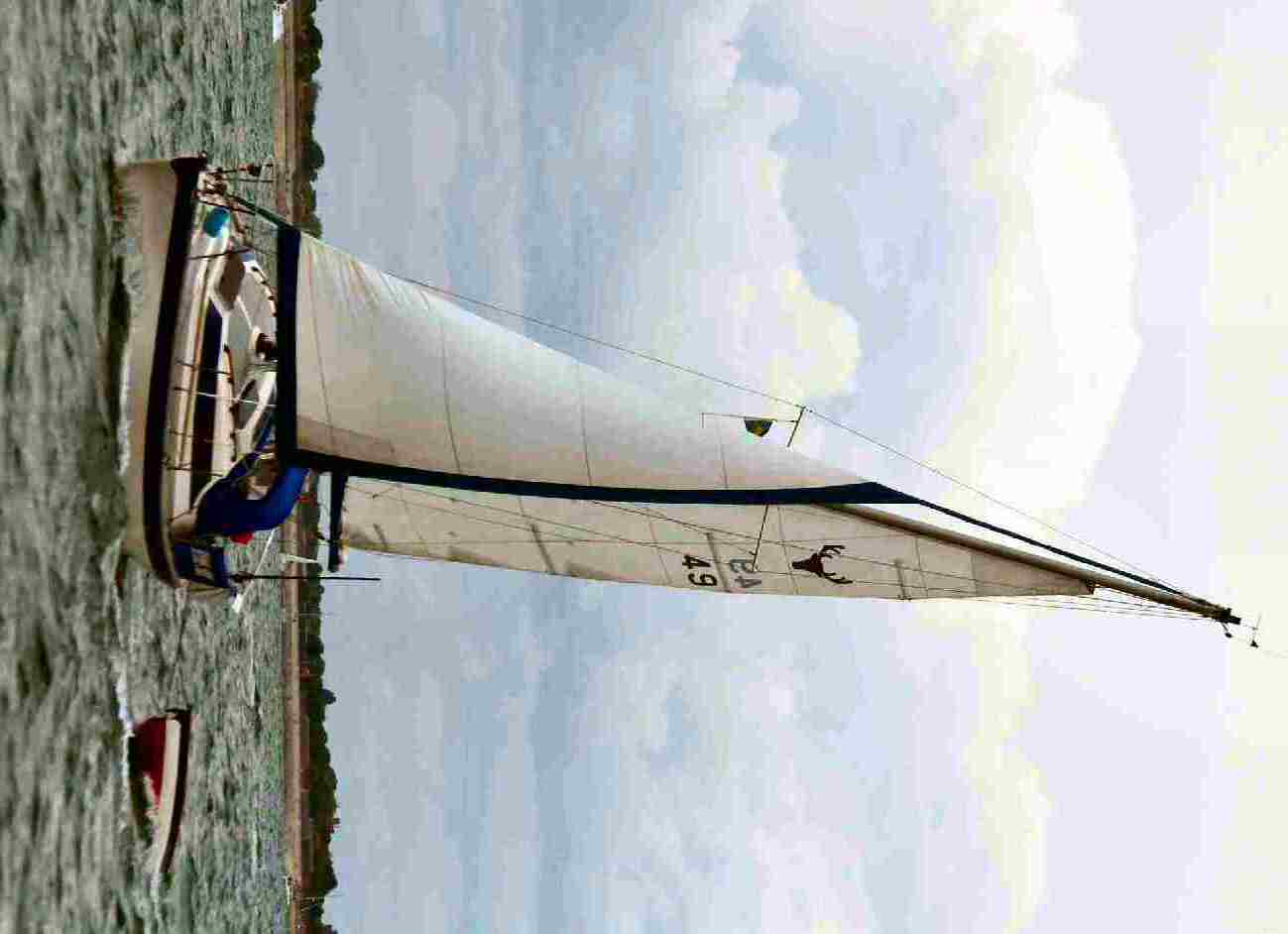 Flying Fox, 2019
Eighteenth season...2020
After the normal engine maintenance and winterising I started on my list of 'works'. First off was to replace the 'windows' in the sprayhood, one of which had split during the season. Not difficult and, I thought, a very successful job giving me a few more years of use. We had noticed a bit more water in the bilges than normal (usually dry) and it proved to be fresh water. Having ruled out all the joints in the fresh water system it seemed that the flexible water tank must be leaking. Obtained a replacement bladder, wrestled it inside its cover and refitted under the forward berth. Filled and waited. All dry so job declared done. A lot of remedial work on the yard trailer (steering, tyres etc) was needed before considering launch. I had been marginally slow at getting my winter cover on the boat, consequently it had been covered with leaves which had stained the deck. No amount of chemicals and scrubbing would clear the stains so I ended up re-painting the deck non-slip areas.
Ready to go and launch arranged despite the social distancing for Corona virus advised at the time. The day before we were due to go in the water the full lockdown was ordered. The language I uttered is not printable here. Eventual easing of lockdown allowed us to get launched on 24th May with Janis and Rob dragooned into raising the mast with me instead of the usual group of self-help club members. We had a few very warm and sunny day sails away from the tedium of lockdown but are still not allowed to remain out overnight.
Despite the 'no overnight' rule it's obvious that boats are anchoring out so we start to head out for weekends, 10 days Solent and Poole, 15 days Solent and Poole, various 2 - 5 day trips etc. In the end it turns into a relatively good summer all things considered. Mid season we had a problem with the centre plate. The winch handle had come off whilst lowering and the board went into freefall and had stuck solidly down. I had tried running hard aground to force it back up but it wouldn't budge. We arranged for the club to use the sublift to lift the boat out of the water. Lowering it gingerly down onto the slipway, the centre plate quietly folded back into its slot. Late in the summer I received the new 120% genoa that I had ordered to replace the aged 140% that had been used since we bought the boat. It sets beautifully and is that bit easier to winch and reef.
Corona virus strikes again toward the end of the season with tighter restrictions and another lockdown. We just have time to make a rapid exit from the water and into the club yard before everyone is once again grounded. No opportunity to get the mast down this year. Get FF set up for the winter and get the engine winterised. Investigate and fix a dodgy engine battery switch which has been playing up all season requiring us to parallel the batteries to start the engine.
During the season I suspected that our forestay was trying to lift out of the foredeck. Worrying to say the least. On investigation inside the anchor locker it looked like the plywood bulkhead, to which the forestay fitting was bolted, was rotting. Had to stabilise the bulkhead and add a substantial backing plate to spread the load to the hull. This just prior to Christmas and the later, full, lockdown.
For another short season we totalled about 510 miles and 49 days on board.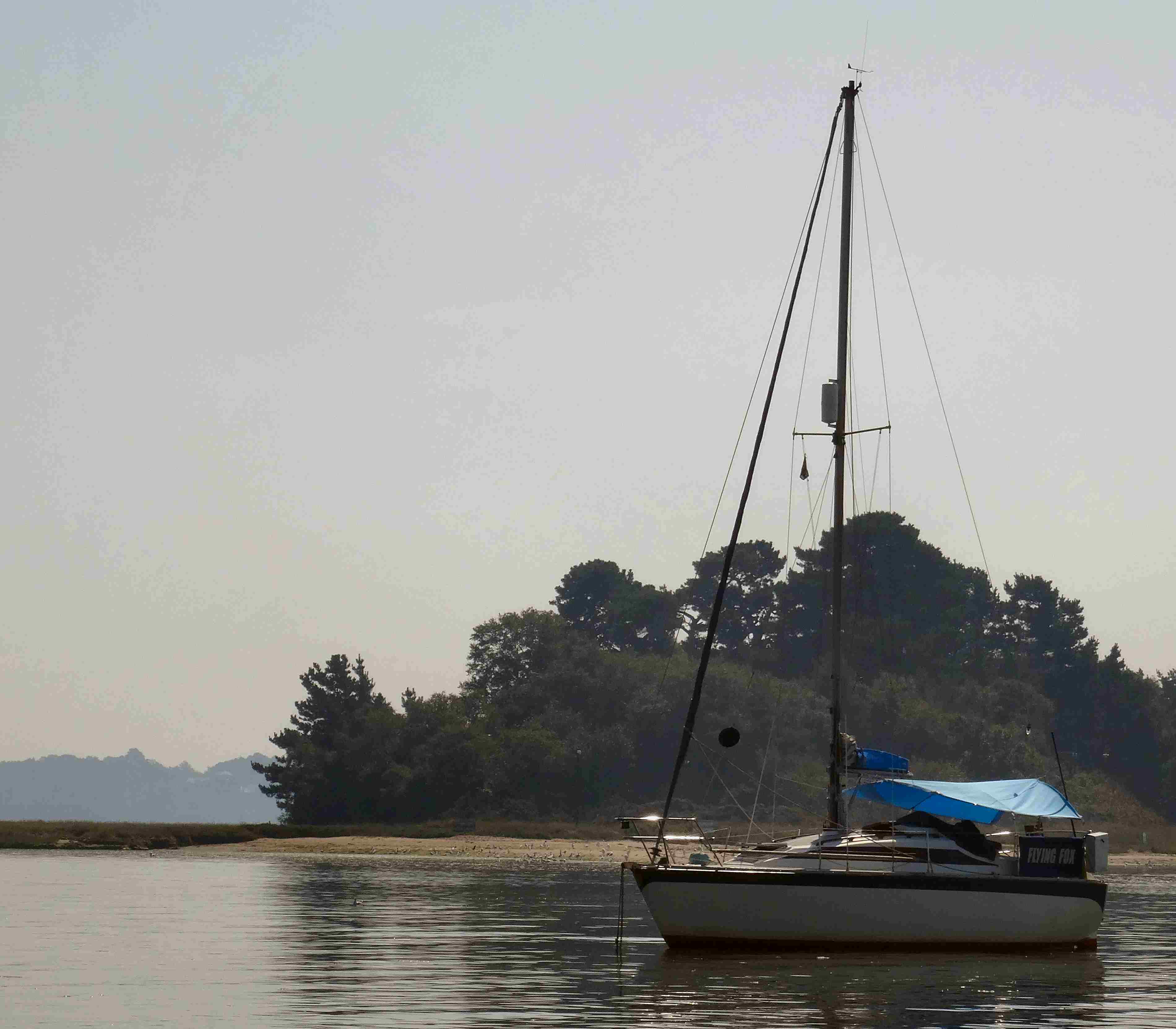 Flying Fox, 2020
Nineteenth season...2021
Still under the oppression of Lockdown until mid-March. When restrictions finally start to lift it's full on work to get the heavy winter cover off, boot top and antifoul rubbed down and re-applied. Clean and polish the hull and decks. Service the mast winches. Get sails and sprayhood re-rigged. Try to resurrect the house battery which had suffered from 3 or more months of lockdown neglect, it seems to have come back but only time and use will tell. Also had time to replace the old Nasa Clipper log with a Nasa Duet utilising an electromagnetic speed sensor with no moving parts, maybe now the log will keep working well into the season. The new depth transducer was fitted into an old, existing, oil tube ahead of the keel. At least I'll now have a depth indication in the cockpit without having to squint down to the chart table where the fish finder is located. It's mid-May before we get launched onto the water. The new log transducer works fine but the depth transducer produces rubbish so I resite it close by.
Before the end of May we manage a sunny and warm five day trip down to Newtown and back. Mid July we head off for two weeks around Poole and Studland. On the way back, anchored in Newtown, we are subjected to a 2am thunderstorm with rather scary, violently shifting F7-8 winds. We stay on anchor watch for an hour or so as the winds subside, the anchor did its job. Early September sees us head out to the Bournemouth Air Show. We see the main part of the show but the remainder gets cancelled when one of the wing-walker biplanes crashes into the sea close to Poole entrance. We stretch this trip to six days by continuing into Poole to visit old haunts.
Having now had a full season with the new 120% genoa I'm extremely happy, it keeps the boat far more balanced on the helm. Despite the reduction in sail area we don't seem to be losing anything in performance. I determine to spend some money on a new mainsail for next season.
Plenty of long weekends add up to make this a relatively good season covering just over 600 miles and spending 59 days on board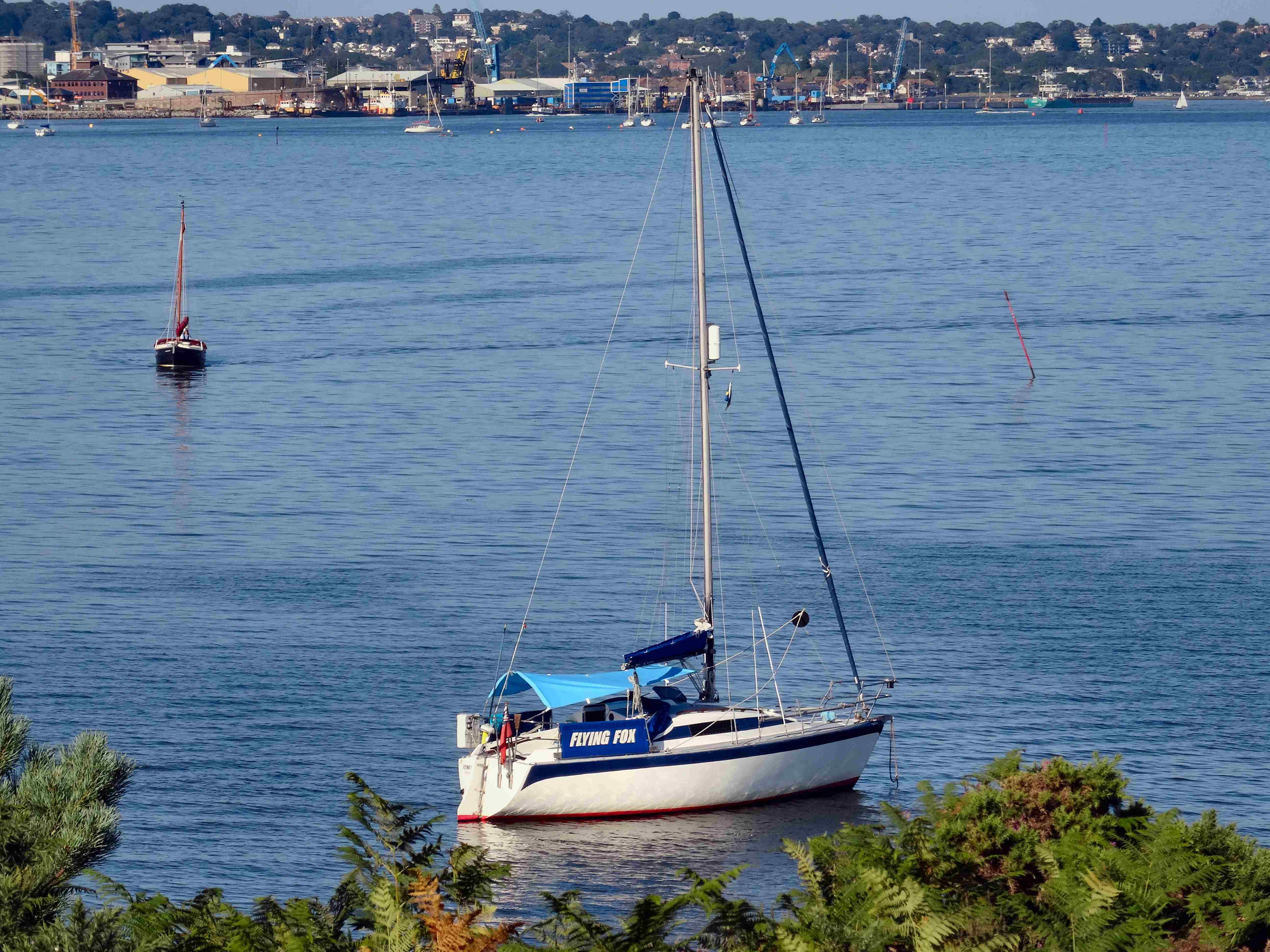 Flying Fox, 2021
Twentieth season...2022
No pandemic lock downs to contend with this off season so work gets underway on schedule to get the normal winterising tasks done. I measure up very carefully and, after speaking with the sailmakers and getting quotes, order up a new fully battened, loose footed Vectran mainsail from Sanders Sails in Lymington.
Flying Fox, 2022